A 3 month project focusing on improving concert discovery through user research, prototyping and data informed insights. The outcome was a 15x improvement in concert discovery.
The Problem
The core Songkick fan product had historically been designed for notifying users when concerts are happening for artists they follow. We identified a huge opportunity to increase the value to users by making it easier for users to discover concerts whenever they have a specific discovery job finding a concert to go to.
We spent 3 months on this problem, conducting significant amounts of research with users, concepting and making the biggest changes to songkick.com in 6 years.
At the end of the project, we had increased the number of users discovering concerts on songkick.com by 9x (900%) – meaning more fans experiencing live music.
Initial Design Studio
To quickly get a bunch of ideas from the team, we held a design studio brainstorming session. We had the team brainstorm on Jobs To Be Done which we knew existed from previous research. 
Research
Songkick has traditionally had more traction with heavy concert-goers (we call them Concert Junkies). For the discovery of concerts, we knew from previous research that this encompasses needs from a more casual audience of users who may only go to 1-2 concerts per year.
Since discovery was a new area, we made a research plan to identify and interview this audience type to find out how users discover (generally), how they discover music and begin validating some ideas.
Recruitment
We always run our own user recruitment at Songkick, to ensure the cohort of users we talk to are aligned with what we want to learn. In this instance, we ran a poll on songkick.com to recruit & screen users aligned more to this casual audience.
Luckily we were also interviewed users who had experience living in other parts of the world (Chile, Romania, Norway) who could share their experiences of concert discovery in those markets.
Research plan
A research script was designed to dig into the following four areas:
General discovery; finding out how users discover in other areas of culture & entertainment e.g. movies, comedy, apps and services
Behavioural analysis; we asked questions based on a mashup of Myers Briggs and
Music discovery; we dug into how users discovered concerts and music. We then enquired on their user journey for how they had ended up on songkick.com (which is where the initial recruiter survey had been running).
Interactive prototype feedback; finally we showed the interactive prototype which was personalised to each participant based on their favourite artists.
We recruited nine users with unique backgrounds and cultures and age groups (17 to 60).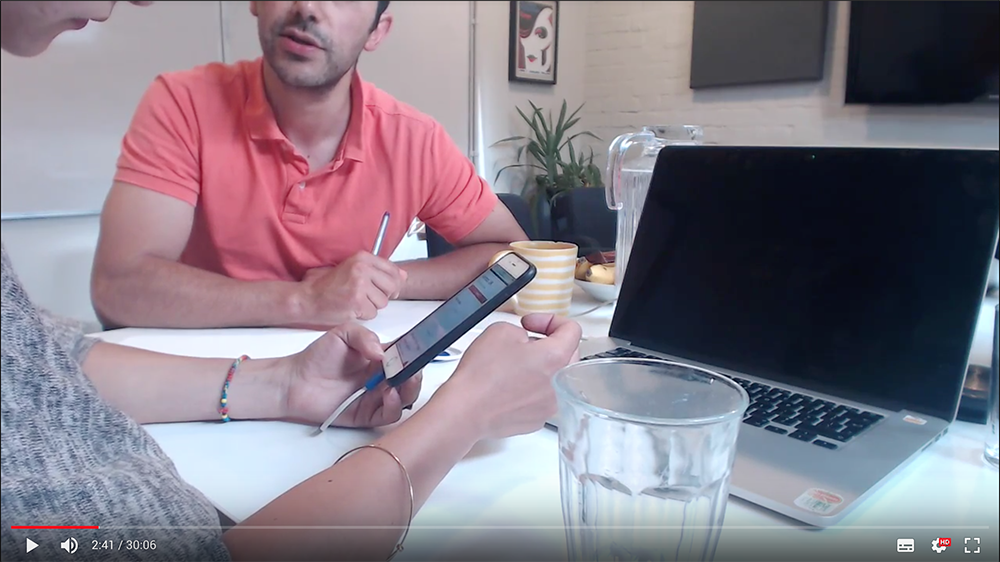 Above: Conducting in-house user research with one of our target users (May 2018).
Interactive personalised prototyping
I actively encourage prototyping which is as close to a real, personalised experience as possible in a way which is fast to create. 
In this case, an interactive prototype was built in Axure with working content carousels. The trick was to allow the content to be personalised for each participant.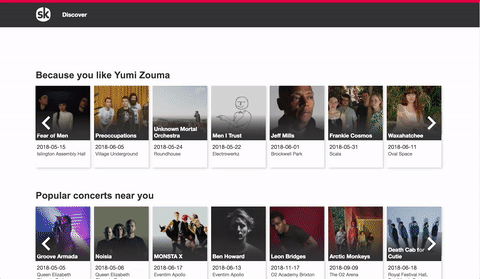 Above: The personalised interactive prototype created in Axure. The content was pulled from production data to personalise the experience for each participant.
Checking the features in the wild
Another part of our process is seeing how features perform in the wild – the ultimate success metric.
Where we can (all our web products) – we use Hotjar to regularly watch anonymous user sessions of users exploring the product in the real world. It can be incredibly useful to identify usability issues or content problems, as we use it to check peoples experience across the globe.
Whilst we can't ask the user questions, we can identify problems and form hypotheses which we can use other research methods to focus in on.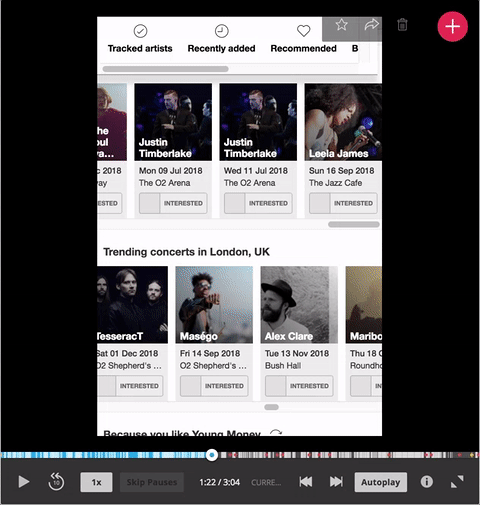 Above: Using Hotjar to watch recordings of real users all over the world using the features. We can then observe usability issues and generate hypotheses for other research or design improvements.
Impact
Over the course of the 3 month project, we successfully increased the number of fans discovering concerts by 15X. This is having a major impact on concert attendances and ticket sales, benefitting fans and artists.
This was a pretty huge change which had significant impact across the impact on onboarding & retention. 60% of web signups now completed onboarding and found a concert they were interested in.